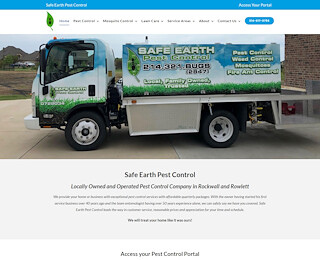 Ease your stress and enjoy the outdoors by ensuring that your lawn is green and inviting. We, at Safe Earth Pest Control, can make this happen as we provide a wide variety of lawn care services such as lawn fertilizer treatment in Rowlett and surrounding areas. Unlike other lawn care companies that merely focus on the aesthetic of your grass, all our lawn care services include pest prevention since we are also a pest control company – enjoy twice the benefits at a single price.
Why Should I Fertilize My Lawn?
If you think that simply watering and mowing your lawn regularly will give you that perfectly green and vibrant lawn, you are mistaken. While both these activities are essential in lawn maintenance, you should not forget to include lawn fertilization as this treatment offers the following benefits:
It helps to ensure that your lawn has a vibrant green color. Lawn fertilizer treatment includes providing your lawn much needed nitrogen. This nutrient, when combined with the right amount of moisture, is known for giving the grass a deep green color that makes it look healthy and lively.
It boosts grass density and overall health. A lawn with thick and healthy grass that covers every bit of space undoubtedly looks more beautiful than one which shows patches of earth. Your lawn can experience better grass density and faster growth through lawn fertilization.
It helps in reducing a high temperature. Lawn fertilization can indirectly help in lowering the temperature outdoors especially during the summer season since it helps produce healthy grass. Having healthy grass cover your entire lawn can modify the hot temperature since it absorbs the sun's heat during day time. Grass can also cool the surrounding because of the process of evapotranspiration.
It helps make the grass more resistant to stressful conditions. Lawn fertilizer treatment will help your grass remain healthy enough to withstand harmful environmental conditions such as pollution, heavy traffic, and extreme weather conditions.
Why Should I Hire Professionals for My Lawn Fertilization Treatment?
Lawn fertilization treatment should be better left in the hands of professionals for the following reasons:
If you let professionals like us to the job for you, you do not have to spend your precious time and energy researching, learning, and actually carrying out the lawn fertilization yourself. Apart from the fact that you cannot guarantee the results when you do the process yourself, you may end up getting sunburned and even getting injured because this task requires serious physical labor.
Knowledge and Experience. Professionals like us have the knowledge and expertise in lawn fertilization treatment that you cannot acquire by merely reading about it. Given our experience, we know best how to ensure outstanding results for your lawn.
Since we have the expertise, materials, equipment, and everything needed to get the job done, you can actually save a lot of money as you no longer have to spend time and money on all these things.
If you are looking for a company that offers more than just a lawn fertilizer treatment in Rowlett, count on us at Safe Earth Pest and Control. As a local lawn care business that values quality and excellence, we will make sure that your grass is always green and free from all annoying pests at a reasonable price. Call us today to know more and to request a free estimate.
Stop Stressing Over Your Lawn, Call Us Today!